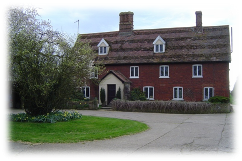 The Dunallan herd of Jersey cows was established in Combs Ford, Stowmarket in 1950 by Ann's mother, Muriel Mitchell. She started with one  Jersey cow, called Adelaide who arrived  by train and was so full she had to be milked on the platform at Stowmarket station! She quickly built up to half a dozen cows which she milked by hand.
Muriel bought Punchards Farm in 1963 and moved the then 35 cows to Rattlesden. In 1967, Muriel died, aged only 54, and the farm was passed onto her teenage daughter Ann.  Ann and her husband Jonathan Tomkinson increased the herd up to 75 Jersey cows, and sold the milk to a dairy who processed it and distributed it via milkmen and supermarkets.
In 1980, Ann began selling unpasteurised cream from a stall at the farm gate. It was a roaring success and she soon added whole milk and skimmed milk to the stall. The last 10 years saw us become regular vendors at local Farmers Markets and distribute cream to Farm Shops.
Punchards Farm is a traditional mixed farm with a variety of livestock: cows, pigs, ponies, ducks, cats, etc and arable crops of wheat and barley. Every cow is known by name and we have always grown our own hay, straw and silage.
In 2008, we took the difficult decision to stop selling to the dairy and reduce the size of the herd. The majority of the cows were sold to a farmer in Dorset. We kept 7 of our favourite cows and continued to provide milk and cream direct to the local community. We also started a beef suckler herd and began the sale of grass-fed beef from the farm. In November 2010 we ceased milk production entirely and now focus on the grass-fed beef and occasional rose veal. See News page for more info.
About us